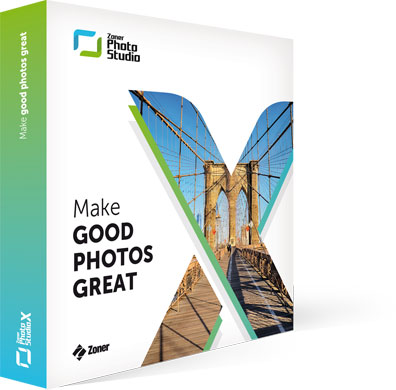 Become an Affiliate Partner for Zoner Photo Studio X
Are you interested in affiliate marketing? Do you want to make money off of your digital photos? Become a Zoner Photo Studio X affiliate partners and earn a commission of up to 45% on every license sold!
I Want to Become an
Affiliate Partner
Why Offer Zoner Photo Studio X?
We've been among the leaders in graphics editors for 25 years. And over 10 million satisfied users worldwide are proof that we're doing things right. We offer above-average commissions, and so by partnering with us, you're gaining an opportunity for attractive earnings.
Above-average commissions
You get a commission of up to 45% from every sale.

Experience
We've been a successful player on the digital photography and graphics software market for over 25 years.

It's quick and simple
Once you fill out the form and we approve your request—within 48 hours—you can start earning immediately.

Potential
Despite having over 10 million users, we still have an enormous potential for growth—and you can grow with us and make a tidy profit in the process.

Support
You'll have a number of graphical materials and text links available to support your sales.
How Does the Zoner Photo Studio X Affiliate Program Work?

Fill out the form
to apply for inclusion in the Zoner Affiliate Program (you will receive information on acceptance/rejection within 48 hours).


Promo
After your approval, you will receive access to special links and graphics that you can use on your website, blog, emails, and/or social profiles.


Ordering via Affiliate Links
If a customer clicks on an affiliate link and purchases any ZPS X product within 90 days, our Affiliate System registers this fact and…


Order commissions
…when their payment is successful, it will become a part of a monthly commission you'll receive. This is a commission of up to 45% for each new license sold.
For more information, see the cooperation terms and conditions for the Zoner Photo Studio X Affiliate Program.
FAQ for the Zoner Photo Studio X Affiliate Program
How can I become an Affiliate Partner?
Just click the registration button and fill out the form. We will then verify your application, and within 48 hours, we'll inform you that your application has been accepted or rejected.
Do you need to have a blog or a website?
It's not absolutely essential, as long as you comply with our conditions.
How much will it cost me to join in on the partner program?
Nothing at all. Everyone can join for free.
I don't have any graphical materials of my own for ZPS. What do I do?
That doesn't matter at all, and we don't even want it. We'll offer you banners and links for free. You just have to choose.
What kind of commission will I receive?
The amount of your commission will depend on your sales revenue. The table below shows what kind of commission you can expect.
| Revenue in USD | Commission in % for each license sold | Commission level |
| --- | --- | --- |
| 49–600 | 30 | 1 |
| 601–2,000 | 35 | 2 |
| 2,001–5,000 | 38 | 3 |
| 5,001–7,500 | 41 | 4 |
| 7,501–9,000 | 44 | 5 |
| >9.000 | 45 | 6 |
The commission is paid once per month. The minimum payment is 390 USD. (Should this sum not be reached, payment is made in the next month. Should this sum not be reached within three months, Zoner then sends a payment even though the minimum payment has not been reached.)
What if a potential customer finds your site thanks to my link, but they later make their purchase by entering your address in their browser directly?
When a potential customer visits our website through your Affiliate link, a cookie that lasts for 90 days is stored in the browser that they are using.
If the customer purchases Zoner Photo Studio X during this period, you receive your commission. If the user has cookies from multiple affiliate partners, the Last Cookie Wins principle is applied.
We are confident that the offer we have for you is attractive and fair. So we're looking forward to your application and our future cooperation. And if you need any further information or you have any questions, please don't hesitate to contact us.
I want to become an
Affiliate Partner